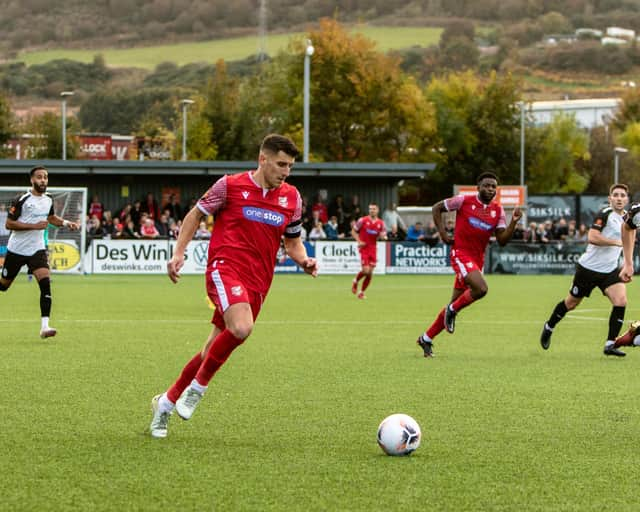 Michael Coulson gives Scarborough Athletic a 1-0 lead away at Leamington
Midweek hat-trick hero Kieran Burton blocked a shot from home skipper Jack Edwards before Boro's first attack saw Lewis Maloney sacked by Kieran Veledji who shot inches in and then 17th minute Veledzhi tripped Coulson, whose shot was deflected to the right corner, written by Steve Adamson.
Luca Colville rounded the corner into a crowded net and in a thrilling showdown, Ciarán McGuckin, Veleggi and Burton opened fire on shots that were blocked by a desperate home defense before the ball was finally batted to safety.
A powerful shot from Leamington's Charlie Williams blocked Bailey Good, then Boro moved in as Kieran Glynn tossed the ball forward, Coulson chested McGuckin for a low blow and goaltender Callum Hawkins dived to save him.
Boro took the lead in the 36th minute with a stunning goal as Glynn passed the ball to Colville who passed to Colson in the penalty arc.
The Boro captain looked up and then kicked his left foot into the top left corner, leaving the goalkeeper no chance.
Glynn showed class by going past two defensemen before going forward on Colson who landed a shot and then shortly before halftime, Devon Kelly-Evans threw a 25-yard shot that sent Borough goaltender Joe Cracknell a jump takedown. with Burton fighting back clearly.
in the second half, Colville, who had a great game, passed to McGuckin, who shot wide of the right post before Leamington's Kelly-Evans shot wide from a free kick from 20 yards, but equalized in the 50th minute when robust striker Rakim Reed ignored a couple of weak problems as he raced to the touchline and kicked the ball into the net, with Adam Walker taking it past Joe Cracknell.
Boro were a bit stronger in the first half, but Leamington now controlled and Edwards headed wide from Kelly-Evans' free kick, then Kelly-Evans shot wide on air and Walker fired. a little bit more.
Boro struggled to get ahead despite Colville, Maloney and Ryan Watson making their 125th appearance for the club with some good passes.
The closest thing to a scoring chance was when Dan Bramall blocked a Kelly-Evans shot near the end, and the draw was probably a fair result.
LEAMINGTON: Hawkins, Meredith, Hall, Clark, Street, Lane, Williams (May 82), Walker, Reid (Hewlett 83), Edwards, Kelly-Evans
BORO: Cracknell, Velegy (Watson 75), Jackson, Burton, Thornton, Gooda, Maloney, McGuckin, Colson (Bramall 69), Glynn (Plant 61), Colville.
Goals: LEAMINGTON – Adam Walker, 50 BORO – Michael Coulson, 36
YELLOW CARDS: BORO- Kieran Glynn, Bailey Guda
BORO MAN OF MATCH: Michael Coulson
ATTENDANCE: 634 (120 guests)