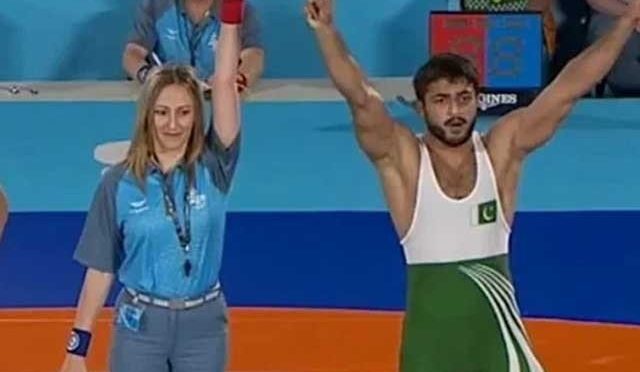 Birmingham: (Web Desk) Pakistani Tahir Sharif has reached the finals of the Yesling event at the Commonwealth Games, where he will face Indian wrestler Naveen for the gold medal.
In the semi-finals of the 74 kg category at the Commonwealth Games, Tahir Sharif defeated New Zealand's Kokool Hawkins by eleven to zero and reached the final.
Tahir Sharif will now play a decisive match with Indian fighter Naveen in the final at around 10pm, according to Pakistani time.
Two more national wrestlers also reached the semifinals on the second and final day of the wrestling competition. However, Tayyab Raza and Asad Ali faced failure in the semifinals.
Now the two will fight for the bronze medals. On the first day, Pakistan won three medals in wrestling. Inam Butt and Zaman Anwar won the silver medal and Inayatullah won the bronze medal.